Simple iPad Cover Tutorial
After brainstorming for a little while with III we came up with the perfect Mother's Day gift for his mom. She recently bought herself the new iPad, and what could be more perfect than a nice cozy case???
I thought I could figure it out myself. It went a little something like this..
01. "I wonder what the size of an iPad is? Maybe I'll Google it….okay, it's about 8.5″ x 7.5"
02. I should probably add a few inches for the sewing part…let me cut some rectangles,
 let's say 11.5″ x 9.5″ – and a little wider for a pocket…say, 10.5″ x 7.5″
03. Now maybe I'll sew these two pieces first…
It was at this point I realized I had no idea what I was doing :o/ Bring on the seam ripper!
So I went to my trusty source for situations like this…
I did a little research, and while I didn't find the iPad case inspiration I was looking for…I did find this AWESOME Kindle case. Bazinga! (And Big Bang Theory fans out there???)
Charm Stitch had a lovely tutorial that I was able to slightly modify for my purposes :o)
Simple iPad Cover Tutorial
1
Cut your fabric (this I did do correctly the first time!)
2
Fold over the top of your pocket flap (form me it was the longer edge) about 1/4in.
Press & then stitch all the way across.
3
Lay your pocket, right side up on top of your main fabric. Stitch around the three raw edges (not the top of the pocket).
4
Repeat these steps for the back of the case with the other two pieces.
5
Now you need to attach a loop to be able to keep the case closed & the iPad safe. The original directions called for a piece of elastic for this step. I didn't have any so I asked III to run to Wal-Mart & pick some up. When showing him the picture he said, "You mean like one of those things you put in your hair?" Lightbulb!
My husband is a genius.
Stitch one end of the ponytail holder (or elastic) to the raw edge of your back piece.
Make sure & back stitch to secure.
6
Now take a BIG breath…you're half way there! Oh, and pat yourself on the back too :o)
7
Now you are going to sew the top raw edge to the short edge of the quilted fabric. Repeat for both pieces. Trim excess & press the seam.
8
Now open up both pieces & lay with right sides facing in. Pin. Now stitch all the way around your rectangle, but stop 3 inches before you reach your starting point. I left my gap on the bottom edge of my quilted pieces. Clip the corners when you finish.
9
Now turn it inside out by pulling it through your 3 inch gap.
10
Sorry, but I don't have a picture of these two parts…First, close the gap in the quilted part (hand or machine stitch). Then, you need to push the quilted part into the normal fabric part so that you create the lining. I used a dowel rod to push out the corners.
11
Add a button. Pull your elastic over to help line up the best spot.
12
You could be finished at this point!! But something just didn't look complete to me, so I decided to add a monogram to the pocket.
I used my Silhouette along with the fabric interfacing to cut out my MIL's monogram. After ironing it on, I stitched around the edge to give a finished look!
And there you have it! Thanks again for the help Charm Stitch!! I would probably still be up in my craft room with a claw hand from all the seam ripping I'd been doing.
Sharing at a few lovely parties!
**Today we are off to Alabama for the birth of our niece, Kellie Ann!! Check back for picture overload tomorrow :o)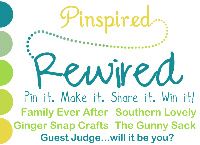 ---
---