Picture Overload…but aren't they CUTE!
I'm warning you now…if you don't want to see pics of the cutest nephew and niece I have then you better keep clicking through your reader. Between my nephew's second birthday & the newborn pics I took of my niece, this is a picture overload post!
(*There are a few newborn photo tips I learned through my first experience, so don't miss out! They are at the bottom of the post)
. . . . .
Last weekend we headed to Alabama for our nephew Sam's 2nd birthday. Seeing as my SIL had her little girl two and a half weeks ago, she decided she'd let Chuck E Cheese handle the details. I don't think I've been to Chuck E. Cheese since I was about 10, it was a great flash from the past!
Sam was too little to go in to the ticket blowing machine, so Uncle III set aside his mature 28 year old nature & took the plunge :o)
To prove I was there…always behind the camera.
Time really flies, I can't believe this little one is two already! We love you Sam :o)
As Sam slept off his sugar high, I tried my hand at newborn photography. Considering it was my first venture, I feel pretty good about the shots I got! Unfortunately, we couldn't find a window with a lot of great natural light, but with a little editing…all is well.
What I learned through this experience:
**And one other idea, I just remembered: keep a pacifier near by. If they start to fuss, put it in for just a moment & then remove right before the picture (and once they settled back down of course!)
. . . . .
Have a GREAT weekend. I'm off to pack for a trip to the beach!
I have some amazing ladies coming over to say hello while I am gone.
Please show them a little A Step in the Journey love :o)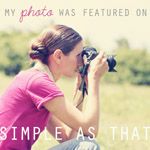 ---
---