Monogrammed Quilted Blanket
I worked feverishly (that might be over exaggerated) the weekend before our niece Kellie Ann arrived so that she would have her personalized quilt by aunt LB on her birthday.
Not that she necessarily knew it, but it really made me feel better about things.
Since I'm still new to the sewing world I try to stick with simple projects.
This one was just that.
Although, it looks quilted, it's simply hand tied in a few spots to hold together the top, batting, and backing. The center is made from pre-quilted fabric & is extra soft :o)
I whipped up a tutorial for the monogrammed quilted blanket here…
using this image from Pinterest
Or if you would like to order one for your own little one you can do that in my Etsy shop!
I hope she enjoys this blanket for years to come!
I can't wait to head back over to Alabama & pinch her little cheeks :o)
If being an aunt is this exciting I can only imagine what I'm are in for on the day we have children!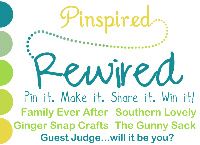 ---
---