Guest Post: The Space Between
Hello hello, A Step in the Journey readers! I am so happy to be here with you all today. My name is Karah and I blog over at
the space between
. You know the space … that little space between what has been and what will be. Where I try to be resourseful and thrifty in my attempt to create a comfortable space for my little family.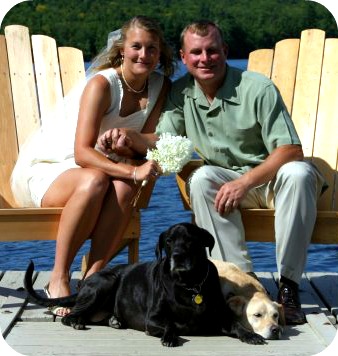 Ummm, yeah, now that the photo is uploaded it looks like I got married in a mini dress. But it was knee length, promise. Angled Adirondack chairs and leaning forward did nothing to help the dress length. :)
Funny story from a few months ago – when LB was asking for guest posters around the holidays I responded (a little late, after contemplating if I was too new a blog for the offer) that I would love the opportunity to do it if she had space available, and I got a very polite "sorry but all my spots are filled" reply. In the same email LB also, very kindly, said "but let's pick another time soon to do it" and I heard "but I'll let you down easy and suggest we do it another time" … so I never followed up with her. 
 Hanging head in shame. :/
Serendipitously (not a word?), we were just co-hosts at Ginger's fun 1 year Blogaversary link party and we crossed paths yet again. And can I first just say, Thank. The. Lord. that Max is alright. We are quite the dog lovers in this house and I am so happy for LB and III that all's well that ends well. Phew. Deep breaths. 
 And many an extra dog treat.
And secondly, I am so, truly happy, honored and down right giddy to be guest posting here now, what a fun step in my journey, so to speak. :)
Now, I thought it would be fun to show you a couple of thrifted canvases I got at Goodwill and turned into painted silhouettes of our favorite furry friends. Mico, is the black dog and canvas and Marley is the blonde dog and gray canvas.
I actually hung a whole
gallery wall all from one screw
and these little puppies (hahaha) received
so many great comments I had to share the how-tos. It really is pretty simple, and I don't have any sort of a vinyl cutter, or other fancy equipment for that matter, at my disposal.
these two b
eautiful
 floral canvases on the right …
(If you'd like to see what I did with the one on the left, you can
click here
.)
… and then pick your photograph, enlarge it to 8 X 10, print it on your home printer, and use an exacto knife to cut as closely around the outline of your pets picture as possible.
A couple of noteworthy items here: 
1.You could easily just buy new white canvases but I rarely take the
sensible easy way. These are 12 x 12 inch squares and only cost me $2 a piece. That ended up being the only money spent on this project. Booyah! For details on how I flipped them to create a blank, white canvas
click here
. 
2. I ended up using a different picture of Mico because once I had the sitting picture cut out I didn't like the way it looked. I think the key to a good silhouette picture is picking one that has features you will really be able to see when it's just an outline and not a picture in color, with details. Make sense?
Now, honestly, one of the funnest (Yes, I know it's not a word, but I like the non word so choose to use it.) parts of this project was scouring all of our photos for good profile pics of the girls. 
But once I had my pics selected and re-sized I realized a few more tips: 
1. I rotated my photos to the direction I wanted during editing, but realized after printing that I didn't need to because you could just trace your silhouette with your printed pic face down. Duh! ;) 
2. Flipping your cut out image face down (so the plain white side of your paper faces up) gives a good idea of what the silhouette will look like without any of the other details in the photo. It was at this point I knew the picture of Mico sitting wouldn't work. 
3. The more details you can cut out the more realistic the silhouettes will look.
Once your pictures are cut out, trace the outline of the image onto the canvas.
Then paint outside the lines. I started with the edges of the canvas and then worked toward my traced image. I figured less chance of accidentally smudging my detail lines if I do them last, right?!?
I really like the eye lash detail on the black canvas.
But, seriously, overall, I am in love. With the pups, and the canvases of the pups. They are some of my favorite projects ever. A pretty easy craft, combined with art that represents two of our favorite things in the world, and for $2 bucks a pop. Score!
If I've missed any detail, or you want more info on any particular step please just shoot me
an email
. And, to see a side-by-side comparison of the canvases and the photos
click here
.
I really appreciate LB letting me come over and share this project with you today, and I appreciate you making it all the way to the end. :)
It would be really fun to see you over at
the space between
sometime. And, if you end up making your own silhouette canvases, please feel free to link them up to my
Facebook page
, I'd love to see them.
Enjoy your space today!
Karah
Okay, so Max NEEDS one of these silhouette portraits :o) I love how you can tell which pup is which just from their outline! Thanks Karah for stopping by & for FOLLOWING up with me! I love sharing amazing ideas from other bloggers through guest posts and meeting new friends!
---
---