Simple Things Sunday
Last weekend we hung out with the cutest nephew in the world (yes, I'm a little bias). 
Uncle III tried to fly a kite for about an hour for his entertainment. He probably ran 2 miles.
There was just one problem. A lack of wind :o(
Sam was more entertained with his rock collection. 
However, last Friday it was all worth it when Sam's mom called to tell Uncle III…
Sam was pointing to a kite at his grandmother's house. When she asked who flies a kite? 
21 month old Sam said….Uncle III :o) 
Priceless. 
Linking up with Rebecca.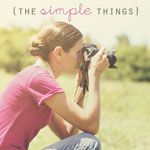 ---
---